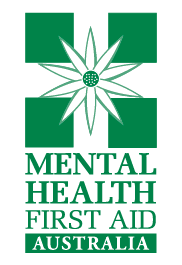 The 12-hour Mental Health First Aid course teaches adults (18 years and over) how to provide initial support to adults who are developing a mental illness or experiencing a mental health crisis.
The course curriculum is evidence-based. Participants who complete the course have improved knowledge of mental illnesses and their treatments, knowledge of appropriate first aid strategies, and confidence in providing first aid to individuals with mental illness, benefits which are maintained over time. Some studies have also shown improved mental health in those who attend the training, decreases in stigmatising attitudes and increases in the amount and type of support provided to others.
Claim CPD Points: Most professionals can claim attendance at a MHFA course for Continuing Professional Development (CPD) with their industry body.
What the Course Covers: Course participants learn about the signs and symptoms of the common and disabling mental health problems, how to provide initial help, where and how to get professional help, what sort of help has been shown by research to be effective, and how to provide first aid in a crisis situation.
Developing mental health problems covered include:
Depression
Anxiety problems
Psychosis
Substance use problems
Mental health crisis situations covered are:
Suicidal thoughts and behaviours • Non-suicidal self-injury (sometimes called deliberate self-harm)
Panic attacks
Traumatic events
Severe effects of drug or alcohol use
Severe psychotic states
Aggressive behaviours
All MHFA Courses teach how to give mental health first aid using the MHFA Action Plan ALGEE.
Who can attend a course?
Any interested adult can attend. Please note this course is not a therapy or support group, rather it is an education course to learn how to give first aid to others.
Participants receive a copy of the Standard MHFA and a Certificate of Completion.
NEXT MHFA COURSE:
DATES: 7 & 8 February 2020
VENUE: Lifeline Northern Beaches, 310 Sydney Rd, Balgowlah, NSW
COST: $290, includes morning and afternoon tea, workbook and certificate
BOOK: https://www.trybooking.com/BESJH
CONTACT: training@lifelinenb.org.au Ph: 9949 5522